Web Development
How much expensive is Adobe Commerce (Magento) Webshop? – Learn everything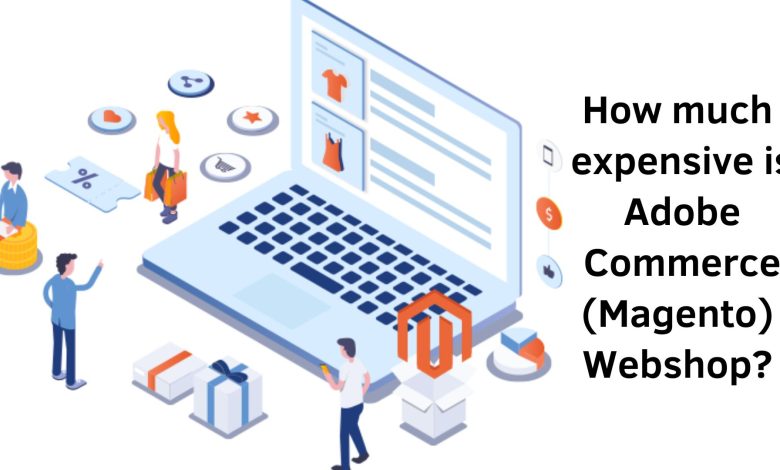 In order to have a successful online business, you need a trusted platform to sell your products or services. Adobe Commerce (Magento) is one of the most popular ecommerce platforms on the web, and businesses of all sizes can use it.
However, setting up and running an Adobe Commerce (Magento) webshop isn't free – there are costs associated with using this platform. Having a Magento webshop made highly depends on the edition you select, yet a bespoke one cost a little more.
This blog post will explain how expensive setting up and running an Adobe Commerce (Magento) webshop is. We will also talk about the factors that directly and indirectly influence the holistic cost of a Magento webshop.
Magento Webshops Do Cost Differently!
Adobe Commerce (Magento) is the leading ecommerce platform for building a modern webshop. Starbucks, HP, Coca-Cola, and many famous brands use it for their digital business.
The prices depend on the type of edition you select. For better clarity, there's a basic community edition (Free) for startups and smaller businesses with valuable but limited functionalities and an enterprise edition for large-scale companies with more robust features and a platform usage fee associated with it:-
Magento Community Edition
The Basic Community Edition of the Magento platform is perfect for those looking to get their business up and running quickly. This edition usually comes free, so it's a great choice compared with other options out there, such as Shopify, Big Commerce, PrestaShop, etc. You'll have access to limited features but will be able to launch your site within days instead weeks or months.
What you will get:-
Simple design or Theme
Basic Magento Functionality
A smooth CMS
Access to Magento community site
No integration with back-office systems
Bespoke Magento Webshop
Magento custom websites are a great way for retailers with established brands and products to make their offerings more appealing. The cost varies from agency to agency but can be worth it in the long run if you want an easy-to-manage eCommerce platform that has valuable branding tools tailor-made for your business.
What you will get:-
Bespoke Magento design
Customer groups
Integrations with back-office systems
Custom attributes for products
Migrations to host
Extensions
Magento Enterprise Edition
The Magento Enterprise edition is for companies looking to take advantage of every feature offered by this eCommerce CMS platform. Though it may be a little expensive for SMEs, they can get out-of-the-box solutions that will handle all business's requirements, from order processing and shipping all the way through customer service, without any work or stress on their part.
What you will get:-
Mobile-friendly
Built-in modules
Full-page caching
Multiple stores
Free professional customer support
A large number of SKUs (Stock Keeping Units)
Hosting by Magento
Customer segmentation
Search engine optimization
Bespoke coupons
Social media integration
Merchandising
Integrations with shipping providers
Targeted promotions
Personalized training
Important Note: A professional webshop is constantly evolving because requirements and trends change over time. It is good to keep this in mind when budgeting.
Factors determining the cost of an Adobe Commerce  (Magento) webshop?
With 50% of costs spent on backend work, it's essential for you as a Magento 2 webshop developer or company owner to have not only experienced but also expertise when looking at hiring someone new; otherwise, there could be costly mistakes made during customization, which would ultimately lead your business down mainly because Magento developers have to perform complex tasks, such as customizing and integrating extensions which can cost upfront for something specific that may not fit into another website's design aesthetic or functionality needs.
Backend construction includes adding new features explicitly related to payment processing methods. The cost of a Magento 2 webshop developer is not static and depends on where they are based. In countries like India or Netherlands, an average Magento developer hiring rate starts at 35 euros per hour but can go up depending upon the customizations requested by the client.
Frontend Development and Designing
Designing and developing the frontend ('the UI') for a Magento webshop can be costly. 25% goes towards these costs, but it's crucial to maintain quality so you don't end up with an unresponsive site that doesn't perform well in search engine rankings.
This would increase your total operational cost by more than 50%. The best way is often outsourcing: finding someone who has experience designing or coding specific features overseas could save time if their rates are cheaper than those here at home.
Indian Magento developers are great if you want your frontend requirements fulfilled within your budget and time. They are often certified by Adobe and have years of experience designing high-quality Adobe Commerce (Magento) webshops.
Testing and Implementation
The costs for a webshop can be substantial, but there's no other way than going through extensive testing before launching. This usually accounts for about 20-25 percent of the total webshop costing and entails checking out different functions and ensuring it works appropriately on various devices or browsers we use today (which might not go hand in hand).
The implementation begins during development because designers have to create designs based on current business processes; once completed, they must also train anyone who will work with this software, including employees who were never involved.
Extensions are a great way to expand the features of your Adobe Commerce (Magento) webshop with other applications, such as accounting or payment software which may not come standard on your original plan.
The extensions must be implemented by professional web developers and can take up some purchase costs depending on how many functionalities they were requested to be added to the website(s). Sometimes you'll have an annual fee associated, which could total 100% – sometimes even more.
You may also end up paying additional support fees if something goes wrong later down the road; these vary per company but usually average out at 10%.
Are you having a webshop built on a different CMS platform? Then you will have to deal with costs for data migration. Such migration can be a complex, tedious, and time-consuming task.
Data migration from another webshop system to Adobe Commerce (Magento) is particularly challenging. A tool is available for migrating data (such as orders, products, categories) from Magento 1 to Magento 2. But even with that, migrating remains a challenging task, even for experienced web developers.
Anyone who switches from the webshop system must have a considerable budget for data migration.
Adobe Commerce (Magento) is a complex system that it needs to be maintained by an experienced web developer. As open-source CMS, it is more prone than other platforms in terms of security issues which means you should make sure your site has top-notch protection too!
Maintenance will ensure its stability and prevent any hacked sites from happening or, worse yet, killing everything. We recommend outsourcing this task to the developer who built your webshop because they have been working on the project day after tedious hours while knowing every code line inside out.
Adobe Commerce (Magento) is a heavy webshop system to host, although it must be said that Magento 2 is a lot lighter than Magento 1. Shared hosting is not recommended due to the often limited capacity and DDoS attacks on other server users.
VPS, dedicated or hypernode hosting for a Magento site costs somewhat around 120 euros per month. If the hosting is part of a service level agreement (SLA), this can be much more. Up-time of the site is then the core of the contract; hosting is part of it.
Because technical maintenance and further development can also be included in an SLA, some webshops spend thousands of euros per month on their agreement. They have, therefore, often included the costs for further development in the SLA and covered themselves with a penalty clause if the webshop does not function properly.
Conclusion
Adobe Commerce (Magento) webshops are not cheap, but the price is justified by the possibilities and features you get in return. However, there are ways to keep the costs down.
Let certified Magento 2 webshop developers help you get the most out of your platform, and that too within your budget. These certified engineers have prolonged experience and can meet all your requirements while keeping an eye on your financial limitations.
Feel free to give them a shot! All the best.