Email archiving in Office 365 is also known as In-place Archiving. O365 email archiving gives customers some extra storage capacity for mailbox data. When archiving is enabled, users may simply view and store email messages in their archive mailbox using MS Outlook and the Outlook online interface. Users may also effortlessly archive Outlook Office 365 emails from their primary inbox to their archive mailbox.
The reasons for archiving communications from popular email clients vary. The questions posed on Quora and Microsoft forums are dependent on mailbox capacity, necessary emails from a period range, and so forth. In this section, we will go through how to archive emails in Office 365 by date.
Query from a User: I have exhausted the storage space supplied by Microsoft Office 365 for my account. Now I'm looking for a way to archive Outlook Office 365 emails by date range in order to keep unwanted emails out of the Office mailbox archive folder.
Primary Reasons to Save Emails from Office 365
Though there might be several reasons to export emails from Office 365 to Outlook PST. However, the key explanations are as follows:
Backup: Many users create backups of their emails in order to save them on their local machine. This appears to be the only saving grace in extreme circumstances of corruption, threats, and data loss. When opposed to a desktop email programme such as Outlook, the possibilities of data loss on a cloud platform are higher due to account tapping, hacking, network packet analysis, and so on. Taking backup Office 365 is therefore a wise practice for keeping your data safe.
Save space: PST is a format with a small file size that helps users to save cloud space and may be saved without any complications. If you're running out of storage capacity, you'll need to either increase your cloud subscription for extra storage or remove mailbox contents to free up more space.
Instant Solution: To archive Outlook 365 emails directly from the mailbox account, use the Advik Office 365 Backup Tool for Windows. This tool will save your webmail account data with efficiency and accuracy.
What exactly is Office 365 Email Archiving?
Many users of on-premise Exchange email systems will be familiar with Office365 features and capabilities, such as the reminder to 'archive your old stuff' that Outlook advises, particularly as mailbox capacity limitations are approaching.
Office365, like on-premise Exchange, allows old copies of email to be transferred from a user's current mailbox to an archive.
Outlook 365 email archiving services provide this in three ways: the recoverable folder structure, the option to export to.pst files, and the usage of a legal hold.
How to Enable Archive Mail in Outlook 365
All of the processes for archiving emails in Office 365 are described here.
Enter https://protection.office.com/ into your browser and sign in using your Office 365 credentials.
Select Data Governance from the Security and Compliance centre. Then select Archive.
You will now see the associated mailboxes to your O365 account, as well as whether the archive mailbox is activated or not.
Select the mailbox to enable the "Archive mailbox" option.
You will get a warning message; click Yes to enable the archive mailbox.
Wait a few seconds for the Outlook 365 email archiving procedure to complete. Users can view the archive mailbox once the procedure is done.
Manual Email Archiving in Office 365
Once the user has activated the archive mailbox, users may conduct outlook 365 archive all emails by following the steps below.
Log in to Microsoft Outlook using your O365 account.
Open the folder from which you want to archive emails.
Note: Users may also pick certain emails and then click the archive button in the top pane of their O365 account.
Right-click on all of the emails you wish to archive and select Archive. To move the chosen emails to the archive mailbox, pick the archive option.
Professional Solution to Archive Outlook Office 365 Emails
It is simple to generate backups of Office 365 emails to various file formats or email clients with the aid of a professional application. You may use the clever Advik Office 365 backup programme, which can create backups of O365 mailbox data in various file formats. The application is compatible with all versions of Windows. It provides some great and secure services to its consumers and export Office 365 to PST format and which can be easily accessible on the Outlook interface.
Steps to Save Office 365 Emails Using Automated Tool
Follow the instructions and archive Outlook Office 365 emails using professional software.
1. Install and run the automated tool on your system.
2. After that, enter your office 365 email id and password and hit on the Login button.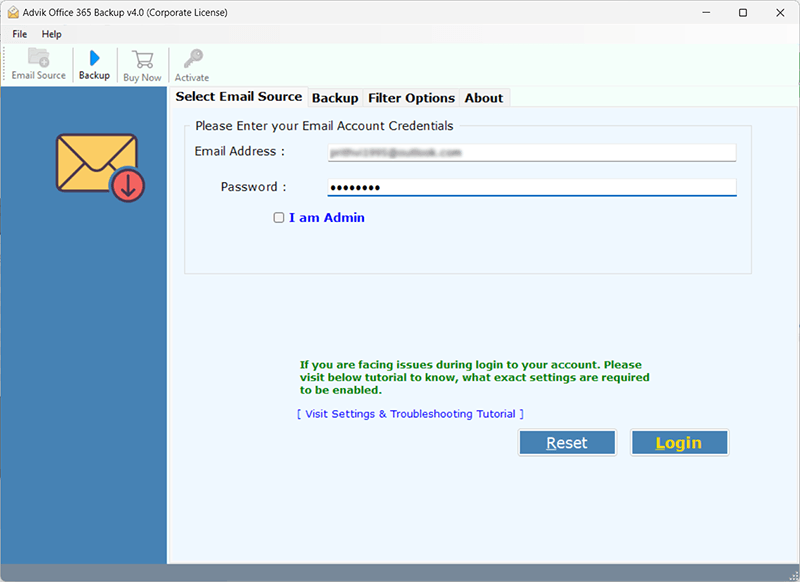 3. Here you can choose the email folders that you want to download.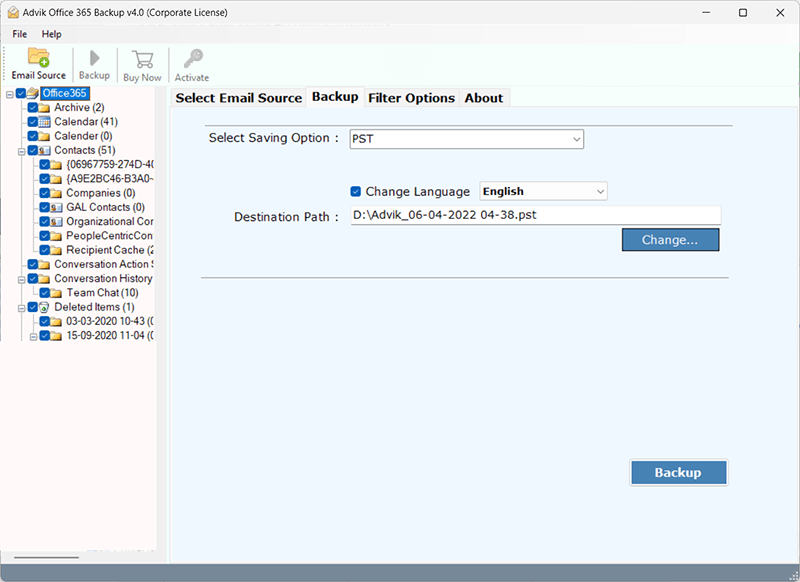 5. Select any file format as the saving option from the given list.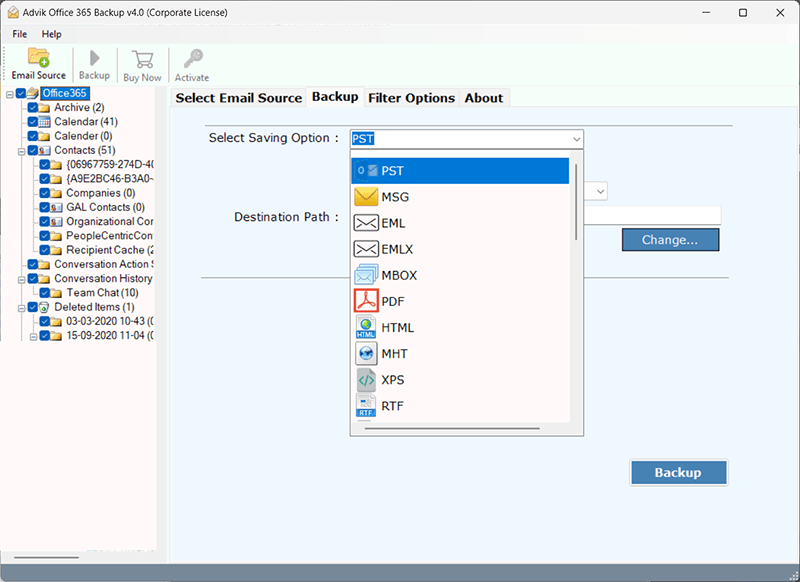 6. At last, browse the location to save the exported file and hit on the Convert button.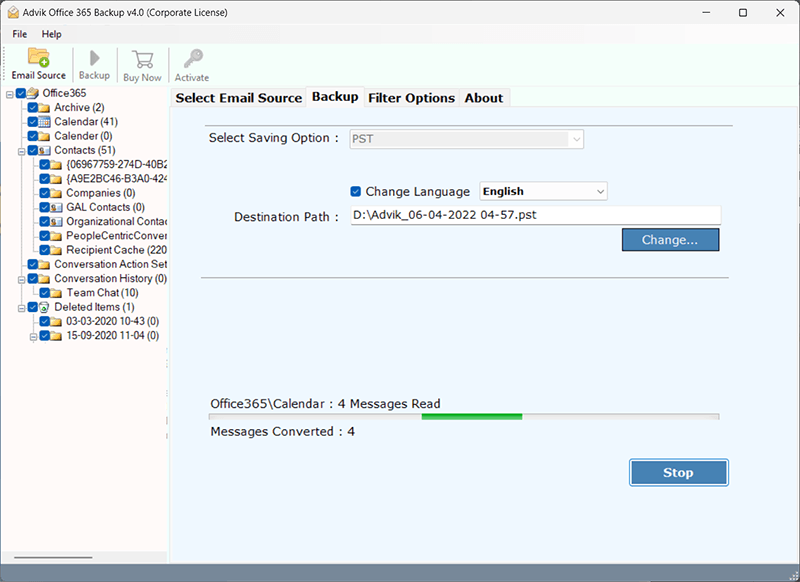 Finish! Here complete the archiving process in a few simple steps without any data loss.
Notable Characteristics
With this automated tool, there are various outstanding features that make the archiving process easy and efficient. some of them mention here –
Backup Office 365 emails in PST, MBOX, MSG, TXT, HTML, Hotmail, Yahoo, Gmail, and other formats.
Saves all attachments, including contacts, calendars, and so on, to a hard disc.
It has a user-friendly interface.
Maintains the data hierarchy after backup.
Supports all versions of the Windows operating system.
There is also a free version that allows you to save up to 25 emails for free.
Why Do Office 365 Users Require Third-Party Email Archiving?
To conveniently access and recover data for compliance needs, a third-party email archiving solution is required with Office 365. Microsoft Office 365 has many valuable features, however, the email archiving function has been scrutinised and has failed users. ArcTitan, a complimentary email archiving product, can help Office 365 customers archive emails effectively and securely.
Email archiving has become a vital role within modern organisations; it is no longer sufficient to merely preserve your mails; they must also be quickly searched and retrieved for compliance.
Office 365 can search through around 50 distinct attachment file types (mainly Microsoft files), but there are hundreds of additional possible files that Office 365 cannot examine. Office 365 only allows 50GB of email storage capacity (including your archive), which means you'll shortly run out of space.
Unfortunately, these flaws might expose firms to legal liability. If you can't properly store and examine your emails, you risk violating federal requirements, which can result in significant penalties or even incarceration.
Organizations demand a better email archiving solution, one that allows them to store emails in a completely compliant and safe way.
The Benefits of Using O365 Email Archiving Solutions
Cloud-based email archiving is increasingly becoming standard software for enterprises that use Office 365 as their email service provider. Businesses benefit from extra capabilities not accessible in Office 365 by deploying an email security solution. Features include:
Instant file access and retrieval – It goes without saying that accessing emails in Outlook is a time-consuming and tedious operation. Email archiving for Office 365 solutions gives you fast access to archived files. Employee productivity benefits from quick access to and retrieval of stored emails.
Compliance – ArcTitan offers cloud-based email archiving and retrieval that is consistent with Sarbanes-Oxley, HIPPA, and other standards for eDiscovery, retention, and audit. Archived emails contain an audit trail that documents any changes to communications and ensures regulatory compliance.
Storage – an email archiving solution provides organisations with limitless storage.
Final Thoughts
We addressed the procedure to archive Outlook Office 365 emails in the preceding blog. We have published a step-by-step tutorial on archiving emails in Office 365 Outlook. In addition, we have specified an automatic professional solution for customers to generate a backup of O365 messages and attachments without any effort and safely.