Automotive
Services
How to Find the Best Roadside Automotive Assistance Service in Emergency?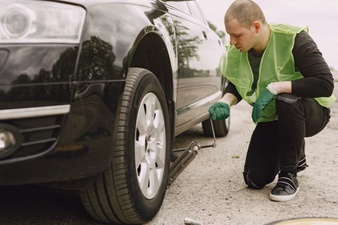 It doesn't matter how maintained your vehicle is, at the end of the day it is a machine that can fail you in the middle of your journey. Things could go worse if you are nowhere near a service center or garage to take your vehicle on your own for repair. There are a number of instances such as lost key, car lockout, out of gas, flat tires, and even a car accident that could make your day worse and frustrating. It is where you can call roadside assistance from the professional automotive service provider nearby for your help.
So, when you are in the middle of the road and looking for the key replacement, tire replacement, or towing service to move your car, hiring a roadside assistance service is the best thing you can do. It is very important to find the right services for your specific need to get out of the frustration. An unprofessional or inexperienced service provides only adds to your problems. Here're some tips that you can follow to search and find the best roadside assistance in an emergency:
Determine your need
First and foremost identify the root cause of the problem to decide on what kind of roadside assistance you will need to get into your car or take it to a nearby garage. If you have lost your car key or your car remote is not working, you will need to call a locksmith service provider. On the other hand, if your vehicle is damaged or you don't have a spare tire to replace your flat tire, you have to call a towing service provider for help.
Use Google search
The best way to find a roadside assistance service provider nearby is to use the Google location search to locate all the service providers in the region. Look for "near me" type search results on Google to find the nearest roadside assistance service provider. It will also tell you the distance of each service provider that will help you decide who can reach you in the shortest possible time. You can use phrases related to your specific problem to find the right services to get you out of the situation.
Look for customer reviews
To shortlist the best roadside assistance services, go through the online reviews and testimonials of the customers to get an idea about an automotive service provider and its service quality. It is the best way to get references and recommendations to find the best one in the business with the highest level of customer satisfaction.
Find a full-service company
When you have shortlisted the best locksmith and towing service provider in the region, go through their website to take a look at the types of services they offer as part of their roadside automotive assistance. The most common services include key replacement, car remote reprogramming, towing service, and others. Make sure to hire someone who can help you with a wide range of automotive solutions in case something won't work out. You can contact them via phone to explain your problem and ask them to come well-prepared repair or move your vehicle.
Compare costs
You can also prefer to compare the service charges to find a service provider who provides affordable services for your needs. Make sure that there are no hidden charges or fees after the services to avoid any issues.
Read More: The Common Problems in Hyundai Elantra
So, these are the most common tips that you can use to find the best roadside assistance services in the middle of the road. Always prefer someone with proven experience in providing roadside automotive assistance with 100% customer satisfaction.