Business
How to Find The Perfect Antique Cabinet For Your Home
Majestic and stately, an antique cabinet can be used to increase the elegance of any space in your home with ease. These pieces of furniture offer quite a bit of functionality as well, allowing you space to display your favorite china, pottery, or other kinds of decor.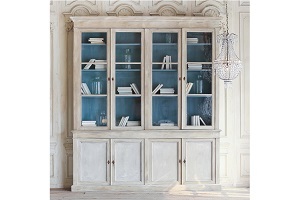 While it is not altogether uncommon to find a true vintage cabinet, locating the right one for your home is another story. These pieces come in a wide variety of different styles, featuring a dazzling array of different wood tones, embellishments, carvings, and sizes. If you are trying to locate one, say, in the traditional French style, you may be waiting a long time if you only rely on estate sales and luck.
This simple guide will help you find that perfect piece for your home, and also provide a few pointers on how to use these elegant antiques to enhance the look and feel of your home.
How to Use Your Antique Cabinet
You can utilize a quality antique cabinet in a number of ways, depending on the kind you have your heart set on. Larger, display cabinets can be used throughout your home but excel in the dining area as display pieces and provide much-needed functionality as well. If you have the room to spare in your dining room, placing one of these cabinets here would be an excellent choice.
Often, dining rooms can feel sparse if there aren't enough eye-catching pieces of furniture. While you want your dining table to stand out as the centerpiece, a room dominated by nothing but a table and chairs can feel kind of unbalanced and empty. The inclusion of a stately cabinet can fix this issue immediately and help your dining room feel more attractive and full.
Alternatively, you can add your cabinet to your living room as a statement piece. This is especially effective for displaying beautiful decor items or if your living room is lacking any vertical interest in its furniture arrangement.
If you are intending on purchasing a smaller, table cabinet or sideboard, these pieces can be used much in the same way, but won't define a space quite like a china cabinet. However, their size makes them far more versatile. You may even want to consider adding one to a large hall or in a den as a functional display table that has plenty of storage.
The Best Place to Look For an Antique-Style Cabinet
You may have a few ideas in mind in terms of how best to use a beautiful antique cabinet, but how can you find one that actually matches your home? When it comes to quality antiques, selection is everything. The more pieces that are available to choose from, the better chance you have of finding something that resonates with you.
That being said, EloquenceⓇ is without a doubt one of the best places to find beautiful antique furniture online. Their wide selection of French antiques will allow you to create the perfect arrangement in your home.
Finding the right antique piece of furniture can make a substantial difference in the way your home looks and in the atmosphere you are attempting to foster. An out of place cabinet can throw off the look of your dining room, for instance, which is an important part of your home. Rather than rely on just any piece of furniture, you will have a much better chance at finding what you need at EloquenceⓇ. Their selection is truly unbeatable when it comes to high-quality vintage-style pieces. Take a look at their online store today or call them at 310-876-0661 to inquire about their beautiful pieces.
For extra details about Bergere Chair and Antique Gold Mirror Please go to : Eloquence.