Education
How To Survive The First Two Years Of Medical School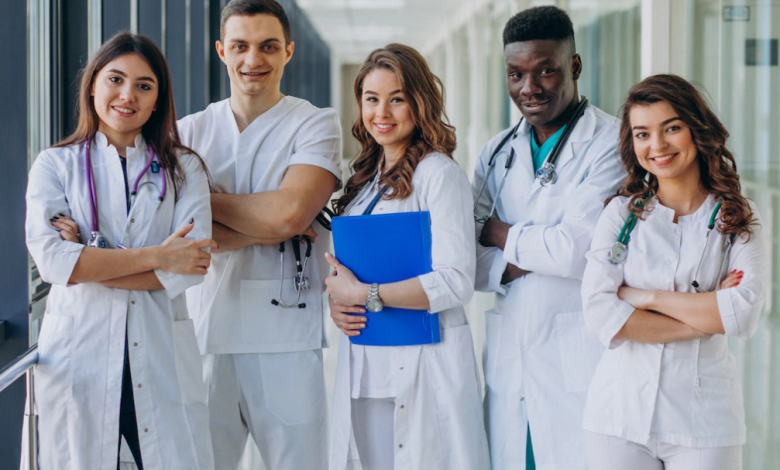 The first two years of medical school are very important regarding your time and lifestyle. During this time, you will study varied subjects, learn new techniques, and hone your knowledge. 
The right study habits can help you make the most of your curriculum, helping you be a more effective learner.
If you don't know what the First Two Years of Medical School will be like, this article is for you.
The first two years of medical school are about learning about your body and science and becoming an expert in your field. 
You will also be required to complete many clinical rotations across multiple specialties. 
You will spend more time in the classroom than at home.
The first two years of medical school can be extremely intense and stressful. 
However, you must understand the importance of these years because they play an integral role in preparing you for the rest of your life as a physician.
How to Prepare for the First Two Years of Medical School?
The first two years of medical school are about becoming a doctor. 
It means that during this time, you will be focusing on developing your knowledge base, acquiring the necessary skills, and preparing for your final exams. 
So that when you graduate in May or June (depending on when you start), you will be able to enter into practice as an intern or resident physician.
Easily Memorized Tips for students in the first two years of medical school
:
Learn to work with others :
The first two years of medical school are often a time of great stress and anxiety for students. 
It can be especially true if you have family or friends, not in the medical field. The good news is that there are ways to prepare yourself for these stressful times.
First, it is important to learn how to work with others. You will be working with many people in your clinical rotations and throughout your entire medical career. 
Therefore, you must get along well with them so that they will help you when you need it most.
Take care of your physical and mental health:
Being physically and mentally strong during your first two years of medical school is important.
Physically, if you are not in shape, you will have a hard time with the rigors of medical school. You will run around all day long and must stay fit. 
A good way of staying in shape is by exercising regularly. You can go to a gym or do some exercise at home. If you are preparing for your USMLE Step 1 then you need to take care of your health.
Mentally, taking care of yourself is just as important as physical health. 
If you are stressed out from schoolwork or other life stressors, it will affect your health in many ways. 
It can lead to depression and anxiety, affecting how well you do at school and your relationships with others.
Manage your time wisely:
The first two years of medical school are a time of the intense study. 
You are expected to maintain a high level of academic performance while also balancing your personal life and the demands of your future career to manage your time effectively; 
You may want to consider these tips:
Schedule weekly blocks of time for studying and studying alone.

Use online resources such as Study Hacks and Khan Academy to review your lessons and learn more about topics that interest you.

Create an efficient study schedule to spend less time on homework than you would otherwise have done without planning.
Seek out help when needed:
The first two years of medical school are full of study, work, and exams. 
There are many things to learn, and it can be difficult to keep up with everything you need to know. 
If you have questions about a particular topic, ask! Many resources on campus provide excellent instruction on a wide variety of topics. 
If you feel overwhelmed by the amount of information thrown at you, seek help from your professors or students who might be more experienced with the material than you. 
5 Tips from Nurses on Surviving Your Hospital Stay
They will be able to advise you on how to approach certain topics or problems so that they don't overwhelm you.
Make friends:
In the first two years of medical school, you will be studying with a group of people. These are your classmates who will form your social network. 
Having friends at this stage will help you with your studies and give you something to do during breaks.
The key is to find people who understand what you're going through. 
You can make friends by talking to them about where you are in the course or just chatting about general things like movies or music.
Trust yourself and never give up:
Chances are, you've been feeling tired and rundown lately. You must think you're ready to quit your first two years of medical school. 
However, it's important to remember that the first two years are only a small part of your entire medical training. There is so much more waiting in the wings!
The hours are long, the work is intense, and there is always a great deal of pressure to perform well. 
It can be tempting to give up in these early days. But if you are determined to succeed, you can do it.
Take good notes:
Good notes are essential for medical students as they will serve them in the future. 
You should be able to remember everything you learn during these two years and ensure that you do not forget anything.
It is also important to take good notes because it helps one remember better. 
In addition, it will help one to study at home or in the library without worrying about whether they have any materials with them or not.
It is also easier to write down your notes because you can easily access them if needed.
What You'll Learn in the First Two Years of Medical School?
You'll learn many things in your first two years of medical school. 
You'll learn how to pronounce and spell words correctly, use a microscope and what kind of bacteria you're looking at. 
You'll study anatomy, physiology, microbiology, and psychology. 
You'll take courses in ethics, pharmacology, and radiology. And then there's the little matter of actually getting through exams.
The most important thing you'll learn is how to study for exams. It is something that many students struggle with, but it's not hard at all once you get the hang of it. 
The key is to read as much as possible; read textbooks extensively; talk with other students about their experiences studying for exams, and try to find ways to apply what you're learning in class directly to studying for exams.
You should also try not to feel stressed out when studying for exams; if anything, feel pleased that you've learned something important.
Conclusion :
Hopefully, after reading this article, you are better prepared for what you need to do to survive medical school during your first and second years.
Undoubtedly, the first two years can be tough for many students because they are mentally and physically challenging.
But if you follow these tips and stick with them, you will do fine. Good luck!
MedSmarter helps Medical Students pass their USMLE Step 1 & Step 2 CK Exams and provide Live and Live Online Review Courses as well as 1:1 Tutoring.