With cities and gadgets becoming smart, people are looking for better ways to enhance the impact. Because people want to upgrade their living standards, they choose the latest trends in house design. And are thus installing modular kitchens. The kitchen is a significant area of focus for homeowners, and it is regarded as the heart of the house. Therefore, it is crucial to maintain the cookhouse, or it may cause various health issues. Moreover, a messy kitchen doesn't create a good impression that's why we need to maintain a modular kitchen on a regular basis.
Why Get A Modular Kitchen?
Hiring professional modular kitchen designers can be highly beneficial in the long run. This is because modular kitchens are not only about functionality but also aesthetics; they have become an essential requirement for modern or urban households.
A modular kitchen means an organized space in your house for cooking. Smart space planning tan comes in handy for space utilization. For example, modular kitchens have cabinets that make it easier to store items.
There are a lot of options to choose from for modular kitchens. You can hire modular kitchen designers to help you build the perfect kitchen, and you can choose to customize it per your needs. Modular kitchens can be designed for all budgets. If you want, you can design high-end kitchens or affordable ones. Lastly, you don't have to go for unwanted expenditure regarding modular kitchens.
9 Popular Tips On How To Maintain A Modular Kitchen
A modular kitchen is slightly different from a regular kitchen. Therefore, you need to adopt proper cleaning measures as well. If your modular kitchen looks as if it is new, you must adopt procedures that will help to keep it the same way in the coming years.
Given below are the primary nine tips that you must follow for maintaining the modular kitchen:
Get The Right Cleaning Tools
Cleaning tools are of utmost importance when it comes to cleaning modular kitchens. The modular kitchens will likely have acrylic and laminate cabinets that need proper cleaning, and you can use an all-purpose cleaner to clean the surfaces.
You must clean the cabinets' surfaces regularly, which helps to prevent the risk of grime and oil buildup. In addition, you should look at the cabinets near the cooking area, and the accumulation of cooking fumes is likely to damage the entire cabinet.
Suppose you want to go chemical-free while cleaning; use the right solutions. Baking soda and vinegar combination can come in very handy.
Keep The Cabinets Closed
An Indian kitchen is always busy. Honestly, there's some other activity going on continuously. This further paves the way for a lot of damage and spillage. This type of spillage can directly affect your cabinets as it will reduce their durability and effectiveness.
To prevent spillage from damaging your cabinets, you must keep a check on the drawers and cabinets. Whether they have shutters or racks, keep it closed at all points. Furthermore, you should also adopt necessary steps that will help to prevent steam from entering the cabinets.
Steam can also damage your kitchen cabinets and affect stickiness. If you notice something falling on the kitchen surface, clean it immediately. Removing the marks and stains immediately is advisable, especially on the cabinets.
Check For Leakage
Leakage is a prevalent problem that affects every kitchen. Since your modular kitchen is advanced, you may want to make the right choices. If you ever notice drips and leaks in your modular kitchen, fix them as soon as possible.
The leakage is likely to happen across the washbasin and kitchen sink. The moisture can damage the cabinets and shutters, thereby leading to warps. It would be a huge aid if you also refrained from hanging damp dishcloths or wet towels on the shutters.
If these become damp, there will be an increased risk of fungus and mould. As a result, it can ascertain to be damaging in the long run.
Fix The Hinges
One of the best ways to maintain the modular kitchen is to fix the hinges. We often tend to open the cabinets and drawers in a hurry. Constantly opening and closing these drawers can loosen the hinge, causing many problems.
Loose hinges can lead to the drawers getting unhinged and falling off. Since drawers and cabinets are a significant part of your modular kitchen, keeping them in the best shape is crucial.
You must keep a regular check on the drawers. When the hinges are loose, they will make a weird sound. You should further ensure that you keep a regular check on the kitchen drawers. Keeping a check on all the things in your kitchen will help you make the fixes before it is too late.
Get Rid Of Pests
Pests such as the cockroaches will affect the hygiene of your kitchen. Believe it or not, even when you perform the best cleaning measures, cockroaches can break into your kitchen during the night.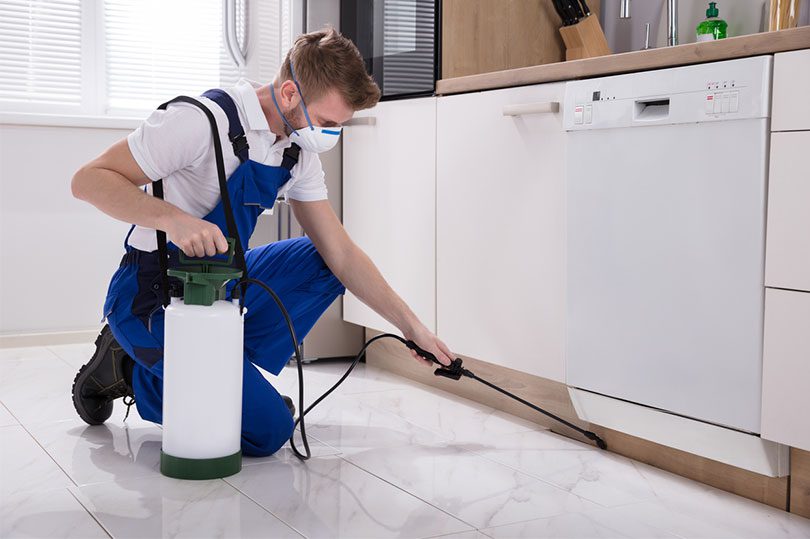 Another useful tip is to refrain from keeping food or wet waste uncovered. It is advisable to use a tight-fitting lid to protect all the items in your kitchen. You must use herbal pesticides if you want to go chemical-free in cleaning your modular kitchen. This will also help to keep the pests away from the kitchen.
Take Care Of The Wall And Tile
It will help you in the long run if you take special care of the wall and tile. You should adopt the necessary measures for keeping the cabinets and racks clean. Regular cleanup of walls and tiles will help to look the kitchen sparkling clean.
It is advisable to clean the walls and tiles, especially if you have light-colored tiles. To clean the walls and tiles, you must use a disinfectant spray or mild detergent. The use of these will help to keep the kitchen hygienic and clean.
Go For Deep Cleaning
Deep cleaning your modular kitchen once in a while can be extremely helpful. It will help to make the kitchen hygienic. Furthermore, it is also easier to handle the kitchen space. Finally, it will help to keep the kitchen appearing shiny and new regularly.
You must hire professionals to be deep clean the modular kitchen. The best time to do deep cleaning is mainly during the weekends.
Segregate Waste
To keep the kitchen clean and hygienic, you must separate dry and wet waste. Make sure to get the bins that will fit your needs.
If you take the garbage out once every two to three days, having separate bins will prevent any damage. Furthermore, it would help if you considered getting bigger bins so that there is no risk of the waste overflowing.
Organise Everything
Maintaining your modular kitchen is mostly about organising everything. If your modular kitchen has a lot of space, organising everything can be extra careful. You will likely use your kitchen frequently, increasing the risk of clutter.
Organising your kitchen prevents the risk of clutter. It would help if you stored everything separately to provide a cleaner look. Make sure that you are keeping everything separately so that you can get extra advantages.
Conclusion
If you have a modular kitchen, you must ensure that you adopt proper cleaning measures. Professional modular kitchen designers like Alea Modular Kitchen can help you design the best kitchen. A modular kitchen can bring significant benefits, so install them in your house at affordable rates. Check out their different kitchen structures from Alea Modular Kitchen to get your hands on the best. Your clean and maintained kitchen will echo your personality, so make sure you don't compromise when it comes to the aesthetics and supreme convenience of a Modular Kitchen.
This Article Listed Under Home Improvement Category.