Fashion
Check Out Gothic Fashion Facts for Women
Gothic fashion talks a lot about the person wearing it. Getting ready in alternative dresses is all about going against the norm. The goths do not believe in the concept of "normal", there is no set rules or anything. Whichever way they want, they can style their outfits. The best part of gothic fashion is that there is no set rule, you need to break the usual, and start something new.
If you are browsing the Internet to know more about Gothic fashion, give this article a read. We have discussed here a few interesting Gothic fashion facts for you.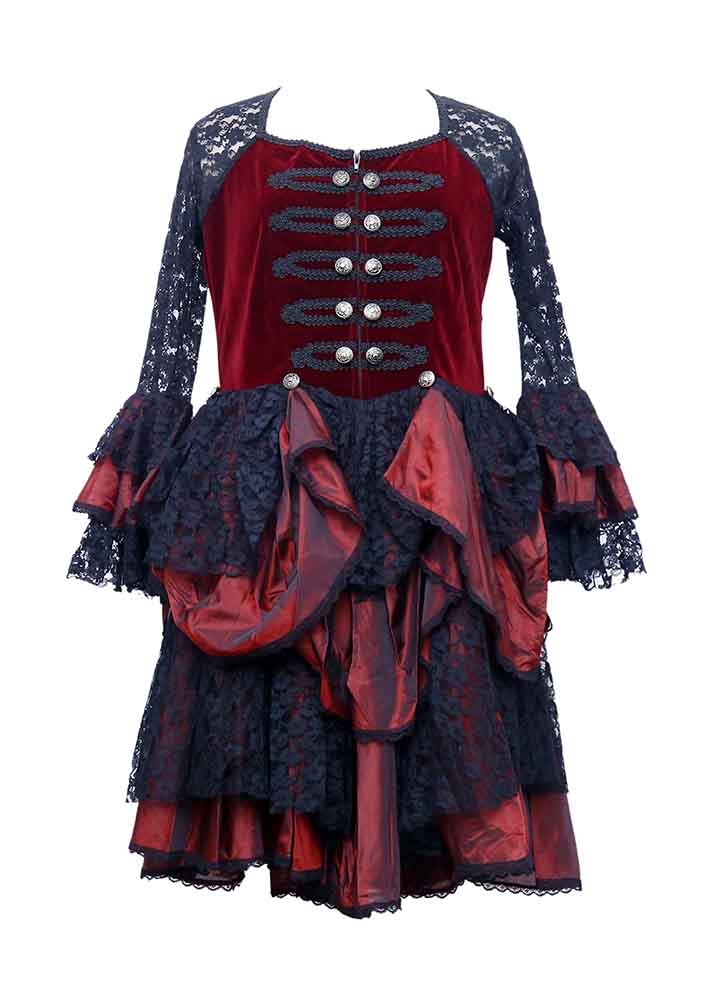 Hail your Dark Soul, satisfy it
Everything dark, black, mysterious, homogenous altogether is what gothic fashion is all about. The members or believers of the Goth society wear this specific type of outfits. This ghastly fashion type revolves around black or dark clothing, dark lips, dyed hair, tattooed body, piercings and so on. Black nail paints, dark eye make-up with pale face is also very typical of the gothic style. Women's gothic dresses included leather skirts and trousers, frilly dresses, corsets and printed tees. They also borrow styles from the punk fashion, Victorians and the good ol' Elizabethans to please their emotions. Influenced by Rock and metal music, Goth fashion has been amalgamated with dark metal themes too!
Origination of Gothic fashion, via the Goth subculture
During the early 1980s, the goth subculture started originating in a region of England. And this subculture was owned mostly by the gothic rock audience.
The 'goth' term was derived originally from the genre of music and from the 'post-punk' groups who made an attempt to develop the shape of the gothic subculture. Some of the important names of these are- Joy Division, Bauhaus, Banshees, The Cue and so on. Gothic fashion has come a long way, has evolved through the ages and have made it possible to make their presence felt in the contemporary societies. The imageries and activities of the gothic subculture are spread across the world and have influenced and still influencing horror films and literature. Goth fashion in Western Europe is very much centred around music festivals, themed parties and nightclubs.
Goth talks of variations
The Gothic fashion boasts of a number of variations like Traditional Goth, Deathrock, Gothic Lolita, Aristocrat, Cybergoth and so on, but each is distinctively different from another. It depends upon the emotions, taste and obviously the sense of styling, that will lead you to a particular type of Gothic subculture. While the Gothic Lolita is a combination of Gothic and Lolita themes, Aristocrat is a street fashion style of Japan that are influenced by the Victorian and traditional Goths. The Cybergoths, that emerged in America, is all about demonic boots and leather coats, while the Traditional Goth fashion believes in classic Gothic trends from the 1980s.
Warm colours are not a part of Goth fashion
Goth fashion welcomes cool and dark shades of the colour palette, and the gothic members prefer to call themselves "kids of the night". Blazing or pastel colours are not their cup of tea. Among the light shades, they only go for white, because for them white signifies the cold and deadly light of the moon.
Goth fashion promotes individualism and is romantic
Gothic doesn't always mean spikes, rivets, vampire symbolism and similar objects, it is much more than that. Gothic is a way of self-expression in the first place. Therefore, most of the Gothic members have in their wardrobes a host of handmade or customised goodies or totems. The outfits that they don can tell others in which Gothic subculture they belong too.
The Gothic dressing style appeals to mourning
The Gothic community is curious about the occurrence of death, the socio-cultural and philosophical aspects of the same. Hence, they fall back upon black colours and motifs of mourning.
Just like Count Dracula is considered to be both the dark prince of elegance and a 'dandy', a gothic member too carries an image of a vampire aristocrat and a 'dandy'. There are stunning examples of sexy gothic clothing into modern fashion, something like that of Dior's blood-red robe.