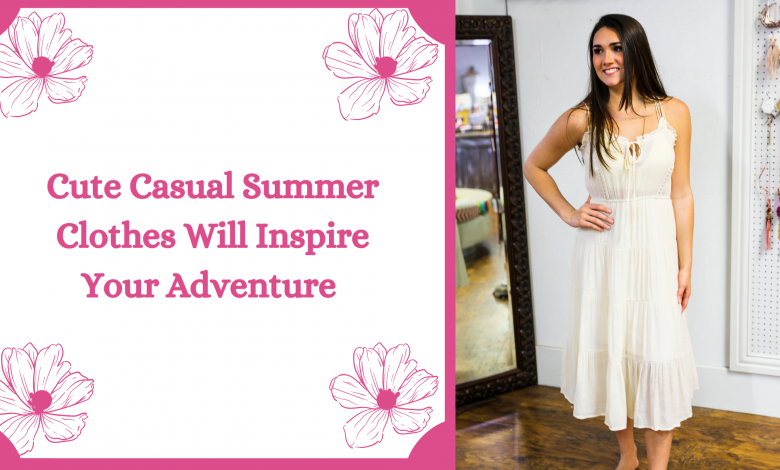 Summer camping season is here! You might be prepping up yourself for an adventure – packing for a road trip in a van or planning to hike. Our excitement is beyond ready to enjoy going outdoors. 
Comfort is our priority on an outdoor trip, but it doesn't require your sacrifice with style. And you can't look cute at the same time. No matter where you are and what you are planning up to, you can still look gorgeous. Online clothing boutiques never sacrifice style, showing you some cute casual outfits that are functional and fashion-forwarded too.
If there is one item to favor functionality over fashion, it's in the shoe department. No heels and sandals, please! We recommend sneakers for hiking and staying active.
Hanging out with Fam! 
Every girl dreams of getting a great-fit jumpsuit. Get these waist cinchers in with a loose, flowy, and soft silhouette. This cute summer outfit is casual enough to style at home and great for family photoshoots. Pick out a warm color, such as red, blue, or black. The solid hue will make it easy to accessorize. Get creative, my friend; go for chunky jewelry, wedges, and a sunhat! 
Brunch out in the sunshine
Are you heading for lunch with friends or a weekly run for groceries? Style in a sleek neutral-colored bodysuit with denim. We have breathable fabric that really hugs all your curves for a heating day out on the town. You can adorably style it with high-waisted, dark wash denim or shorts with a simple chain necklace. And accentuate it with a cute belt; it's one of the best style tips to look stylish. 
Sweet S'mores are served over a campfire. 
Summer classic and favorite treat, pretty obvious we won't miss it! Throw a stretchy, soft, and cozy striped tee with a pair of shorts on a cool summer evening when you are ready to cuddle up. Relax around the campfire in a fold-up chair and layer a light denim jacket over it for a cute, comfy look. It will not suffocate you in humidity and makes the perfect layer over your tea. 
Kicking back at the poolside bar
Knock at poolside with stunning lace cami top! The design, color, and flexible fit make it a perfect showstopper look. Opt for one with an eye-catching neckline, so you don't have to jazz it up with a statement necklace. Style it with light wash shorts and a layered necklace for a simple yet beautiful ensemble. It is the perfect cute, casual summer outfit for a day at the pool or night at a club. 
Wandering in a maxi dress 
A cute print maxi dress will just make you twirl around and drink lemonade. Loose, flowy, and light outfits give you a stunning figure and help you to cope up with the heat. And what's better for a dress with a hat? Dress up with trending accessories from an online clothing boutique such as hats, jewelry, and sandals that look cute and best for a shopping adventure at a local fair.
Hiking up a rocky mountain trail
Hiking up and looking cute altogether is not possible? Why not? Just because you are huffing and struggling all the way up that incline doesn't mean you can't rock the fashion. An online boutique graphic oversized tee with an on-trend vintage wash shows off your personality. It stands out enough that you can style it with denim and a backpack for a complete rocking look. 
Don't want to wear it while hiking? No worries, it's an ideal southern boutique clothing for handing out indoors too! 
Snuggling in a comfy blanket 
It's a chill and relaxing day and time to pamper yourself in bed with a comfy sweatshirt. Wear your trendy sweatshirt with anything: jean shorts, leggings, joggers, or even dark wash jeans. Versatile and stretchy enough, and surely it will be your favorite summer staple year-round. Find a flowy pair of shorts to roam around freely on extremely hot days. All you need is a super casual summer outfit with a cute matching shirt or hoodie.
Celebrating at a garden party
You are looking for something unique, edgy, stylish, and even comfier. And nothing can beat this gorgeous open-back dress flattering in all the right places. All you need is heels to elevate this one-pieces ensemble. It is the perfect Texas boutique staple for a friend's chilling, reunion, or get-together party. 
A day of romance 
Are you heading towards a date? Nothing evokes happiness, and light feels like a flirty denim skirt with a nice tank top. Add a denim jacket and wedge sneakers to complete the look. Let the layers flutter in the breeze.  
Shop from a southern boutique for cute casual summer outfits you'll love!
Online clothing boutique has a stunning design for every woman. No matter your personal style, we have kept fashion and comfort together. So you can express yourself in your own way. Make your adventure remarkable with comfy and stylish casual outfits.