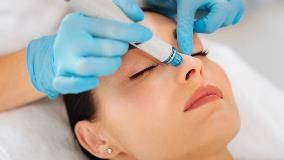 Whether you are 25 years old, 55 years old, or more than that, your skin deserves the best care. If you follow a high-quality skincare regime, you can get the best results of hydrafacial and a more youthful, vibrant glow to the aging skin and keep your skin healthier and longer. 
Sometimes, even after taking so much care, it becomes impossible to prevent the fine lines, wrinkles, dark spots, and other imperfections. Ever wondered what can be the best alternative to restore your skin's lost glow and reduce the appearance of wrinkles and spots? 
These days, there are plenty of medical and spa treatments to regain soft, smooth and healthy skin. But nothing can beat the competence and results of hydrafacial. Hydrafacial is not only excellent but feels gentle, non-invasive, and effective for your skin. Here are some of the tips to give you the best results of hydrafacial. 
Benefits of hydrafacial 
Ever wondered why people opt for the best hydrafacial near me as compared to all the other facials? Here are some of the influential perks of hydrafacial to give you younger-looking skin and excellent results. 
Cures fine lines and wrinkles 
As chemical peel works, hydrafacial also works the same way. It also lifts and removes the dead skin cells and treats the fine lines and wrinkles. Hydrafacial uses a unique spiral suction of water to accomplish the same outcome instead of using acids to achieve results. This way, the treatment helps you get rid of fine lines and wrinkles without causing severe skin irritation and peeling. 
Lightens dark spots and patches 
Most people focus on laser treatments to lighten sun spots, age spots, and dark patches. But on the other hand, this treatment also has drawbacks like aged-looking skin and teeth sensitivity. 
Hydrafacial is a much gentler option with its use of spiraling, pulsating water beneath the skin, wake up the blood vessels, and cleaning out the impurities. Besides this, the side effects are also less, and downtime is also less. Compared to laser treatments, hydrafacial is a well-known alternative to reducing the appearance of spots without causing additional problems. 
Cleans out clogged pores 
Hydrafacial also helps you when cleaning out the clogged pores. Often, the dirt and oil get trapped in the pores, causing discoloration, wrinkles, and acne. Hydrafacial, with the help of its technology, lifts the dirt and impurities out of your pores and leaves behind an even skin tone with a vibrant glow. 
Shrinks pores 
With the dirt entrapped in your skin, the holes can become enlarged, giving the skin an uneven look. Hydrafacial improves the skin's health and helps pores regress to a smaller size by removing trapped dirt and impurities in the skin. All this in collaboration will rest in a smooth overall experience. 
Clears up acne 
Acne can affect nearly anyone. Sometimes, people use harsh chemicals to clear oil and dirt from the skin, but this does more harm than good. Consequently, the chances of acne outbreaks are lessened, and it also clears up existing spots. But hydrafacial does not use any of such chemicals and helps you get rid of this gently and effectively. 
Treats oily skin 
Persons with oily skin have more chances of acne breakouts and clogged pores. But with the help of hydrafacial, you can treat your oily skin and get rid of all these skin issues. 
Tips for best results after hydrafacial 
Here are some of the tips for you which will further enhance the results of hydrafacial. 
Avoid picking your skin 
As your skin has just experienced a deep cleanse, so you should not pick your skin immediately after the hydrafacial treatment. You will feel so pop that small whiteheads and blackheads are ruining your complexion, but you need to keep your hands off for some time. As a result, disrupting your skin might irritate you even if the facial expert did some extractions. 
Skip the toner 
For a day after your hydrafacial treatment, avoid using a toner. The toners containing the alcohol or the exfoliating agents can result in dryness and irritation. You don't need to use the toner anyway, as your aesthetician already did a deep cleanse and balance your skin's ph level. 
Be gentle 
Hydrafacial treatment makes use of the serums and the physical manipulation that might disrupt your skin barrier. Consequently, use only gentle cleansers that won't hurt your skin barrier. 
No exposure to the sun 
Unless there is a need and emergency, do not go out in the sun. Try your best to limit your outdoor activities, such as going to the beach or pool, as your skin has just undergone a deep cleansing. This makes your skin super-sensitive to the sun. Consequently, wear sunscreen if you need to go out in the sun. 
Postpone other treatments 
Depending on the extent of exfoliation, your beautician will allow you to go for hair removal sessions on your face. Still, it is best to wait for at least a week. The treatments like waxing and laser therapy might exfoliate the skin and leave you with pale skin instead of a glowing one. 
Avoid at-home treatments 
One should refrain from using too many products as a part of your post-facial care, especially if the products contain harsh chemicals or irritants. Despite being designed to treat acne, exfoliate and brighten the skin, the chemicals might irritate your skin. Along with this, stay away from toners, cleansers, retinol, home peels, or anything else containing salicylic acid. It would be best if you avoided face masks too. 
Pause your workout 
Avoid the temptation of sneaking into the day later than getting your hydrafacial if you didn't get to exercise before going for hydrafacial. It is so because the excess heat and sweat might be overbearing to your already exfoliated skin. It is best to plan your workout before your facial appointment if you can. 
Adjust your skincare routine 
For the next two days, you need to adjust your skincare routine a bit. For instance, one should avoid skincare products containing glycolic acid or other ingredients that exfoliate your skin. You will not need these skincare products as your face will be bright and fresh upon receiving the hydrafacial. Besides this, you should also not receive treatments like dermaplaning, chemical peels, and microdermabrasion for some time. 
Conclusion 
After learning about such wonders performed by the hydrafacial treatment, one should not delay getting the one for themselves. Browse the best hydrafacial near me and get it now.