Nowadays, people can't go a day without using a heat styling tool for their hair. Styling tools like a curling iron, hairdryer, and flat iron have become a staple in the world of hair and beauty, and it is easy to see why. However, frequent use of these tools damages your hair regardless of the length or texture. Check out these tips to achieve wavy hair without using heat.
Method #1 Get The Right Hair Cut And The Right Products
First and foremost: If you want your hair to be wavy, it is important to get a haircut that suits the style. Ask for a layered cut from your stylist. Layering usually helps to create movement by releasing weight. By removing the weight from the ends and allowing the curl to form naturally, point-cutting these layers encourage movement.
The layers begin to form waves on both long and short hair after you step out of the shower. Dry your hair to get rid of excess moisture; a microfiber towel is the best choice as it is gentle on the strands. You can also shop for microfiber towels in a turban to cut down the drying time. Use a combination of hair products to achieve luscious wavy hair without heat. Use a shine spray instead of hairspray if you are after relaxed waves, and use a texturizing spray for defined waves. Whichever product you use, keep it light because too much weight will weigh down the hair.
Method #2 Twist Your Hair In Sections
Twist your damp hair and let it dry for a simple and efficient method to achieve beach waves. You can also use a hairdryer in a low setting to speed up the drying process. To achieve beautiful wavy hair, spritz a texturizing serum on your damp hair and grab your hair in sections to twist them. Apply the serum on damp hair and twist them in different directions to achieve beautiful beach waves without heat. Use a smoothening serum if your hair is prone to frizz; the leave-in smoothening serum will tame frizzy hair and add lustrous shine.
Method #3 Scrunch Your Hair With Salt Spray
Scrunching your hair with salt spray is the ultimate low-fuss and heatless method of achieving gorgeous waves. They are a great way to achieve beautiful beach waves on your long hair. New sea salt sprays are packed with conditioning ingredients that keep your beautiful heatless waves looking new and fresh. Hydrate your hair with a leave-in conditioner before spritzing sea salt spray.
Method #4 Braid Overnight 
Sleeping with a braid overnight is a great way to achieve gorgeous wavy hair in the morning. Choose from a wide range of braids and flaunt heatless waves. The three-strand braiding technique is the simplest to accomplish.
Follow these steps to achieve the most stunning wavy hair without any heat.
Comb and detangle your hair from roots to ends.
Dampen your hair with cold water.
Create clean sections and braid your hair until you reach the ends.
Secure it with an elastic band.
Wake up to gorgeous wavy locks in the morning.
Method #5 Bantu Knot Your Hair For Heatless 
Bantu knot hairstyles are beautiful and a perfect way to keep hair away from your face. But did you know you can get heatless wavy hair with this hairstyle? That's right, Bantu knots are the perfect way to attain tighter waves. Follow these steps to create beautiful knots for heatless waves.
Brush your hair and dampen it.
Separate your hair into sections. Create bigger sections for bigger waves.
Twist each section into tiny buns and tie them close to the scalp.
Remove the Bantu knots individually once your hair has dried.
Set the waves with lightweight hair spray to hold the style.
Method #6 Pin Curls For Beautiful Waves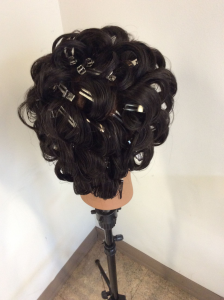 There are two ways to use the pin curl method; one is the flat pin curl method, and the other is called the raised pin curl method. Follow these simple steps to achieve waves with the flat pin technique.
Prep your hair by moisturizing it.
Smoothen the hair out with a round brush.
Divide your hair into small sections.
Roll each section from the bottom up and use bobby pins to secure them.
For the raised pin curl method, moisturize your hair and brush it. Create bigger sections and roll them from the ends to the roots. Secure it with bobby pins, or you can also use heatless rollers to roll your chunky sections.
These two methods offer amazing waves without having to use heat.
Method #7 The Rag Curler 
Try the rag curling method to get heatless tight waves overnight. It has been used for decades and even before the invention of curlers. Begin with damp hair and section it into square-shaped sections. Take the rag and start rolling the hair onto it from the ends. Tie the rag around the hair and wake up to amazing waves that will last the entire day!
Method #8 The Sock Bun 
The sock bun technique is the perfect choice for women with coarse hair. To secure it in place:
Grab a medium-sized section of dry hair and wrap the ends around the middle of the sock.
Keep everything in place by rolling the sock up and away from your face.
Secure the sock bun with a hair tie.
Method #9 Wavy Hair Wigs And Sew-Ins
If you are looking for ways to attain the ultimate wavy hair, then hair wigs and sew-in extensions are the most suitable ways available. Shop for wigs and weaves/ bundles in wavy textures and flaunt natural, heatless waves that will make heads turn. The best part about going with hair wigs is that you can choose from a variety of wavy textures, from deep wavy to beach waves.
And if you desire semi-permanent wavy hairstyles, then get wavy bundles sewn in!
Do your hair a favor and go heatless frequently. Get gorgeous wavy hair with the nine methods mentioned above. Heat styling your hair is the fastest way to achieve the beautiful waves of your dreams, but these tools damage your hair over time. Use the right hair care products to achieve waves and choose methods like Bantu knots, scrunching your hair with sea salt spray, and doing the pin curl method. All these heatless techniques will keep your hair healthy and strong.