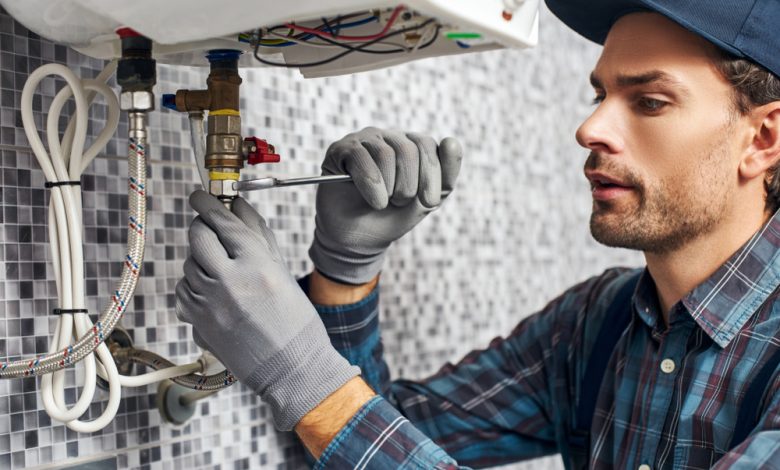 What do you do when your faucets are leaking, your pipes are damaged, your toilets are clogged, and your water heater is running cold? Wouldn't it be better to avoid these irritating plumbing issues? Well, to avoid such mishaps from happening one needs to take preventive measures and use the best plumbing installations. The first step to understanding these plumbing maintenance issues is; you need to understand everything included in your water system. Everything in your home that utilizes water, such as sinks in your bathroom, kitchen, and washing machines in the laundry/utility room, equipment such as the refrigerator, garbage disposal, toilet drains, shower systems, and your water heater, all fall into this category. All of them should be kept in good working order to keep plumbing problems at bay. We will learn how we can do plumbing maintenance ourselves.
SOME PREVENTIVE PLUMBING MAINTENANCE TIPS ONE CAN USE:
FIXING LEAKING FAUCETS AND SHOWERHEADS:
We are going to go through some easy-to-do steps you can perform at home by yourself without calling for any special plumbing services for plumbing maintenance. Of course, you can watch tutorials on how to do it but these are just precautionary measures to prevent huge mishaps.
The steps are as follows;
Turn off the water outlet
The first and foremost step is to cut the water supply from the core if you don't want to splash yourself with water and prevent a miniature flood from happening.
Remove and Inspect
Unscrew the shower head by hand, or if they prove tough to remove then remove it with the help of pliers or wrench. Then you will see a rubber O-ring or Plastic washer, usually, the cause of a leaky shower head is the Rubber Ring because it is at its wear and tear age. If it looks worn out then it is a good call to change it into a new one.
Clean the shower head
Have you noticed decreased flow recently? Well since the shower head is now off you can take this opportunity to clean it. There is a chance of mineral deposits stuck in the shower head which affects the flow. To clean the shower head you can simply mix water with three cups of vinegar and bring it to a boil. Turn off the heat and place the shower head in the solution for 20 to 30 minutes and your shower head will be as good as new.
Tape it up
If the O-ring is placed correctly, then it's time to tape it all up.
Reattach the showerhead
Now the shower head needs to be reattach, you can easily tighten it with your hands. Now with soft hands give the showerhead a final turn with pliers.
Turn it back on!
You are good to go!
CHECK FOR WATER LEAKS IN APPLIANCES AND EXPOSED PIPES:
The refrigerator, your water heater, or any other appliance that requires water could be a source of the leak. Check the manufacturer's requirements for any maintenance tips, watch out for any visible signs of leaks.
CHECKING FOR LEAKS IN THE TOILET:
Is your toilet continuously running even when it is not flush? This is a sign to get it fix immediately. What happens is that gunk is form around the valve seat which prevents the flapper to seal properly. This repair is quick and can easily be done at home with proper precautions.
KEEPING THE DRAIN SAFE FROM UNNECESSARY STUFF:
You must have done this before where you would flush down toilet paper or small objects like cat litter down the drain. Things like cat litter or hair or any other small object can cause a drain blockage. The only preventive measure you can take for this is to be careful and not flush unnecessary stuff in your toilet. Keep small toiletries away from the toilet seat to prevent any mishap.
KEEP A CHECK ON THE WATER PRESSURE:
Make sure the water pressure is on a safe level, you can test this with a water pressure gauge easily.  Another preventive measure that you can take is to add a water pressure regulator so the water pressure remains at a safe level.
SHOWERHEADS MUST REMAIN CLEAN AND FREE OF ANY ACCUMULATED SEDIMENTS:
As emphasized before, you need to clean the shower head often so there is no accumulated sediment inside it. This will retain your shower's life and you can be sure that you are showering from clean and fresh water.
ANNUALLY OR SEMI-ANNUALLY; DRAIN YOUR WATER HEATER:
The most common complaint we see is that the water heater becomes less effective. There is an easy way to prevent that from happening. You will have to drain your water heater every once in a while and clean it from the inside so that it lives longer.
Also Read: 5 Things You Should Know About Hearing Tests
UNDERSTAND YOUR SEWER SYSTEM AND MAINTAIN CLEANLINESS IN THE LINES:
Do you have a sewer system? Well, it is now your responsibility to understand how the sewage lines are running so you can inspect for any threat that could be damaging your sewer lines such as; tree roots. A preventive measure would be to have your sewer snake lines checked periodically.
Keeping these preventive measures in check will save you from facing any urgent problems and extra expenditure of money on plumbing issues. It is a good habit to clean and drain your appliances so they can live longer and keep you out of problems. Most of the problems here can be check and prevent or fix by yourself at home. But if the issue seems complex don't shy away from calling plumbing installation services. You can also search for the best HVAC services online and based on the reviews you can make your call and get your problems fixed. All of them should be kept in good working order to keep plumbing problems at bay. We will learn how we can do plumbing maintenance ourselves. To clean the shower head you can simply mix water with three cups of vinegar and bring it to a boil.