Gaming
Lego 2K Drive – A Detailed Guide From A To Z
Lego 2K Drive is the most anticipated racing game of 2023. Check out the detailed instructions on how to play it in the Lego universe now.
Lego 2K Drive, is a groundbreaking video game that grants players the ability to construct and race bespoke Lego vehicles within a dynamic open-world milieu. Immerse yourself in the enthralling adventure, where the power to manifest your automotive dreams knows no bounds.
Embark on captivating expeditions through mesmerizing landscapes, and indulge in adrenaline-fueled races that will quicken your pulse. With a vast arsenal of Lego components at your fingertips, the game unlocks infinite avenues for customization, stimulating your creative prowess to its fullest potential.
What's more, Brace yourself for an immersive journey that fuses the thrill of racing with the boundless wonders of Lego.
2. How to play Lego 2K Drive?
2.1 Gameplay
Lego 2K Drive seamlessly blends car construction with racing gameplay. Players start by entering the virtual garage, where they can assemble their Lego vehicles using various pre-designed components.
Most importantly, this building process encourages creativity and experimentation, allowing players to design cars that align with their unique style.
Once your masterpiece is ready, it's time to hit the road. Lego 2K Drive offers various race modes, including circuit races, time trials, and challenging off-road adventures.
Especially, the game features stunning and diverse locations, ranging from bustling cityscapes to picturesque countryside vistas, ensuring a visually captivating experience throughout.
2.2 Steps to Play the Game
Step 1: Utilize the available Lego pieces to construct your vehicle in the garage.
Step 2: Experiment with different parts and configurations to optimize your car's performance.
Step 3: Select a race mode and track to compete in.
Step 4: Maneuver through the race track, employing your driving skills and collecting power-ups along the way.
Step 5: Strategically use power-ups to gain an edge over your opponents.
Step on the following, Aim to cross the finish line first and achieve victory.
2.3 Diverse game modes
The game offers many different game modes for players to explore and challenge themselves. Includes: a racing game mode, an extended exploration mode, a unique challenge mode, and much more. Therefore, players can choose the game mode that suits their personal preferences and goals.
3. Special Points of Lego 2K Drive:
3.1 Unleash Creativity with Assembly in the Garage
One of the most exciting features of Lego 2K Drive is the ability to construct vehicles using Lego pieces. The game offers many parts, including wheels, chassis, engines, bodywork, and colors.
After all, allow players to build cars that cater to their imagination and preferences. This feature promotes creativity and personalization, empowering players to experiment with designs and configurations.
3.2 Beautiful Graphics
Lego 2K Drive showcases stunning graphics that bring the Lego world to life. From meticulously detailed Lego vehicle designs to vibrant and immersive race environments, the game offers a visually captivating experience.
In other words, the attention to detail, vibrant colors, and realistic physics contribute to the overall visual appeal, enhancing the enjoyment of the game.
3.3 Live sound
Overall, the sound in the game Lego 2K Drive is considered unique and creates a lively and exciting audio experience for players.
Lego 2K Drive uses lively and dynamic background music, creating a feeling of excitement and stimulation during play. For instance, from the agile melodies of dance music to the exciting melodies of rock music, the music in the game creates a diverse and vibrant musical space.
There are also cool sound effects: vehicle sound effects, environment sound effects, action sound effects, and more for immersive experiences more realistic for players.
4. Tips to Win the Game
– Experiment with different combinations of Lego parts to find the optimal design for your car.
– Pay attention to the attributes of each part and how they affect your car's performance.
– Utilize power-ups strategically to gain an advantage over your opponents during races.
– Master the art of cornering and maintaining control of your vehicle at high speeds.
– Study the race tracks and understand their unique challenges to plan your strategy accordingly.
5. The launch journey of Lego 2K Drive
According to Gadget Match, 2K and the Lego Group have just announced that the Lego 2K Drive racing game will officially be available globally for multiple consoles on May 19.
Especially, a tributary racing game developed by Visual Concept. This is the first game released as part of a partnership between 2K and the Lego Group in a planned series of new games. Because Both are looking to transform the Lego puzzle experience in new and more exciting ways.
6. Reviews by experts
Luke Reilly Avatar from IGN rates it 8/10, because he commented: "Lego 2K Drive is a wild and whimsical all-ages-kart racer with an incredible custom vehicle creation tool that's just about worth the price of admission alone".
Next GameHub said: "A colorful and innovative entry in the racing game genre, it's brimming with new ideas that keep its engine running continuously with every boost" – they voted 4/5 stars for the gameplay.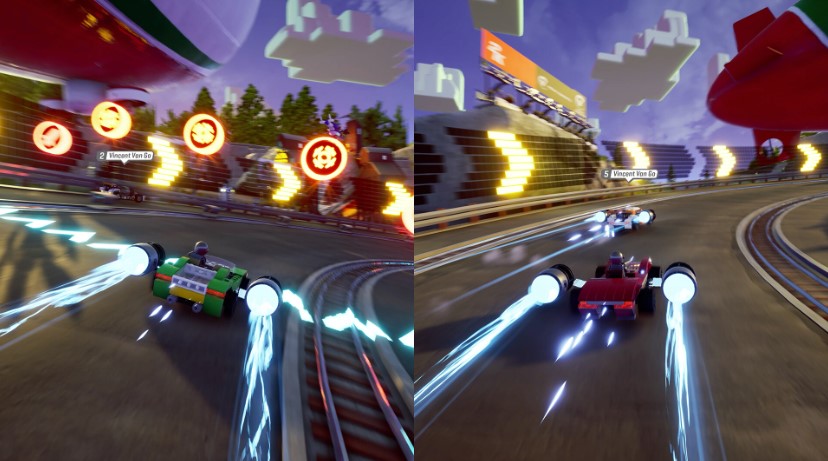 7. Release platform and accessibility
Lego 2K Drive is available on multiple platforms, including PS4, PS5, Xbox One, Xbox Series X/S, Switch, and PC (Steam, Epic Games).
Better yet, the game offers limited accessibility options, such as reversing the camera axis, supporting race difficulty, and color blindness settings. Although there is no button remapping, players can adjust the subtitle size and change the background color to suit their preferences.
Especially, You can play the game online for FREE at: https://Lego2kdrive.io/
8. Advanced Guide to Lego 2K Drive In-Game Controls
It is designed to be simple and easy so that players can enjoy the game naturally. Here is a description of the controls in the game:
Firstly, Vehicle controls: Players can control their vehicle using buttons or compatible control devices. The main control button usually includes a move button, an acceleration button, and a brake button. Players can adjust the speed and direction of the vehicle to avoid obstacles and race against opponents.
Secondly, Use special items: During the race, the player can use special items to enhance the vehicle's performance or hinder the opponent. Controlling item usage is usually done via the corresponding button or click on the control device.
Thirdly, Interact with the environment: The Lego 2K Drive provides the ability to interact with its surroundings. Players can perform actions such as jumping over obstacles, drifting through bends, or even exploring open areas of the game world. These interactions are usually performed using the corresponding buttons or clicks on the control device.
The last one, Vehicle customization, and upgrades: Lego 2K Drive allows players to customize and upgrade their vehicles. Controlling vehicle customization and upgrading is usually done through the game interface, where the player can choose accessories, and colors, and improve the vehicle's technical elements.
Overall, the controls in the game Lego 2K Drive are simple and accessible, and give players a lot of flexibility and customization to enjoy the game at its best.
9. Summary
Let's prepare for an exhilarating plunge into the world of Lego 2K Drive, where you'll immerse yourself in a boundless array of races, forming alliances with fans of Lego.
Brace yourself for a ride that transcends reality, embarking on the wheels of your fantasies, while decimating your adversaries in a breathtaking display of skill, ultimately seizing the coveted Sky Trophy as your own.