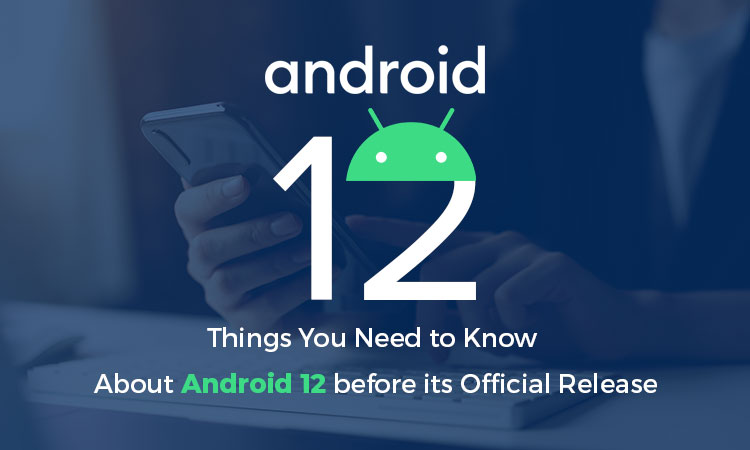 Android 12 is just around the corner and many Android App Developers must be excited to learn all the new features for Google's Operating System or Android App Development for Android 12. After the release of Android 11 for some users, Google is all set to launch the Android 12 and the final version is likely to be available to users around September 2021. However, there is no confirmed release date. As Android 12 is available for the first developer preview, there is already enough information to find out what will be the new features of Android 12.
Several Android App Development Companies are looking forward to the new updates of this Android version that are likely to add to the cool factor of this operating system and its usefulness. Let's find out what are the important updates and features of this release.
Release Date & Smartphones Compatible with Android 12
Google follows a pattern when it comes to the release of the versions of Android OS. It always comes up with a developer preview in the first few months of the year before it launches its official rollout for customers' usage. Similarly, for Android 12, the public beta release will come around May 2021 after the developer preview in February and the official final release for users is likely to take place in September 2021.
Smartphones with Android 12
The OS will be available for limited Pixel devices such as the Google Pixel 4a and Google Pixel 5. If Google decides to launch the Next Pixel flagship, Android 12 will possibly be in it.  Since Android 12 is new, many mobile device manufacturing firms will have to think about whether they should bring this OS version to their new products due to its time-consuming process. There is a high chance that you buy a new smartphone in 2022 that doesn't have Android 12.
Top Features That Are Likely To Come With Android 12
The double-tap feature codenamed Columbus enable Pixel owners to double tap on the phone to call for Google Assistant after its appearance in Android 11 beta builds.  However, many users found this feature to be too sensitive, which is why Google removed it during its final release. With Android 12, it is expected that Google will adjust the sensitivity to only accept firm taps and users will have the choice to turn it off as per their convenience.
Another feature in Android 12 is that a user can pair two apps simultaneously at a time. This App Pairs system is not a new thing for android smartphones but it lacked official release and seamless integration in the codebase of the OS.  Google is likely to fix this in Android 12 enabling users to efficiently launch two apps together. This feature will be the best for foldable phones with more screen space.
From the information collected by 9to5Google, Android 12 will come up with an advanced theming system that allows users to apply preset color palettes to the system. With developers' support, this feature will help users apply the color scheme to recolor apps as well. However, Google won't allow users to create their palettes but use presets that come with phone launches from manufacturers.
Another UI change is the updated media control widget that shows up in the drop-down menu when music is being played. Google has enlarged this screen making it almost the entire width of the screen while adjusting the layout that makes controls closer to the middle of the screen. If any user is playing music on a phone, he/she can tap the tiny icon in the corner widget bringing up a playback location popup window to adjust volume & pair with a device like earphones/speaker.
Face- enabled Auto Rotate
One of the major problems faced by Android phone users is the auto-rotate issue when lying on your bed. Android 12 will detect the orientation of the face when the user is laying down & rotate the screen accordingly. This means if it figures out that both user & phone are horizontal, the auto-rotate feature will be disabled. Though it will be limited to Pixels only in the initial stage, it will solve the issue & users no longer need to make weird angles trying to keep the screen upright.
Android 12 will come with the feature that ensures that users have a choice to make a few apps go to hibernation especially the ones not being used. XDA developers believe that it will help to preserve the battery life of mobile devices.
Wrapping Up
As you can figure out, the Android 12 Developer Preview is already in the rage with so many amazing updates and features. Though it is exciting and good for many Android developers, we suggest that users wait for the final official release and do not install the developer previews on their main devices. Since it is only for developers, it may create compatibility or usability issues in your mobile phones. If you are interested to know more about the Android 12 and many other Android app development updates, get in touch with the expert developers of the leading Mobile App Development Company in San Jose & make your business grow with robust android apps aligned with amazing technological trends.
Related Post: Top 5 Android Emulators of this Decade