We can now complete any task at any time thanks to technology, which has advanced our way of life. Even so, it impacts our daily lives because it allows us to keep in touch with our loved ones. Numerous apps are now accessible on the market as a result of advancements in app development technology, with the creation of dating apps being one of the trendiest trends.
The dating apps are prepared to help you with your love life, whether it has been smooth and pleasant or rough and miserable. They are determined to push relationships to the next level. These dating apps provide the direction and counsel you need to go forward without considering giving up on your significant other. However, with so much online activity, it is simple to forget the primary benefit of online dating—meeting someone in person.
It will be advantageous for you to hire a specialized Dating app Development Company if you want to make money off of your dating app idea and turn it into a reality. Entrepreneurs should release their dating apps at this time. To create a successful app, you will need to take certain steps. This tutorial will introduce you to those steps.

Dating Experience
Dating online has changed as a result of the epidemic. Many users chat with potential partners online for a lot longer than they do when they go on dates in person because of social isolation and limits. The so-called "slow dating" movement, in which people tend to converse more carefully with fewer possible mates, is one of the newest trends in dating applications.
In a survey, participants said that an emotional connection should come first, followed by a physical one. By comparing user profiles, the dating app establishes matches. Only a few potential companions are sent to each user each day.
Read Also: Best Technology for Mobile App Development
Video Call Formats
Trying out novel mechanics can give your goods a distinct edge over competitors. Numerous dating apps currently include video calling, but they can be implemented in various ways. Apps have recently started to offer blurred video chats where users may only see a shadow of their friends in order to put the focus on dialogue and feelings rather than appearance. By allowing users to select their preferred blur ratio. It also aids in establishing the optimal amount of anonymity.
Another suggestion is to link people based on the initial video call's suggested topic. Users can more easily locate friends who share their interests by selecting an event, musical genre, or training technique that they are interested in.
Quality over Quantity
There are several Dating app developments in the USA available. According to an eHarmony study, 79% of women and 60% of men in America prefer long-term relationships. Several online daters do not want mindless swiping or to be judged solely by appearance. Instead, they favor boutique dating services and apps that place a premium on quality over the number and are value-driven. Even services that just provide a user with one match each day exist, yet they function.
AI-driven Experience
It's time to create more individualized and secure AI-based matchmaking apps if you want to dominate the $3.33 billion online dating market. Over the past ten years, it has been one of the most anticipated advancements for online dating apps. According to a recent study, 55% of responders plan to continue or start using dating apps more in the upcoming years.
Nevertheless, there are hardly any commercial applications of artificial intelligence technologies. But machine learning models hold great promise for enabling dating apps to:
Find common facial features to provide more accurate, customized match suggestions.
Give them the choice to look for mates who resemble famous people.
Determine a person's compatibility and potential chemistry based on their DNA profiles.
More effectively get rid of phony activity and inappropriate stuff.
More can be done for your potential customers through AI and ML. It can increase computer capacity, efficiently address the issue of data overload, and provide additional capability for service customization.
VR Dates
There is a dominance of text messages, voice calls, and video calls on the internet today. Video dating was available on Hinge before the outbreak. The popularity of this option, however, has dramatically increased throughout the isolation: several users have used it at least once.
One of the significant future trends for dating applications is experimenting with novel dynamics based on VR technology. Moving into "genuine" virtual reality is now theoretically feasible. You could plan a virtual date in a restaurant or see a movie together in a theatre, for example. You go for a walk or even a quick excursion to any location on our earth. Another scope for virtual reality is marriages or other significant events in one's life. In virtual reality, you can also date anyone you choose.
Safety Arrives First
Many people refrain from using these programs due to a few fundamental problems with the online dating sector:
Confidentiality
fake profiles and con artists
inappropriate actions, such as sexual harassment or offensive images
The ability to hide from their victims after unmatching them frees virtual abusers and con artists from their chains. Online daters can still be discovered by family, friends, or other people in their immediate social network.
In order to avoid potential infractions, future dating apps must have detection systems that can more efficiently identify scammers and objectionable information. Extending the options for reporting any abuse or unpleasant experiences at any time also makes sense. Since women are more inclined to date online in a safe setting, increased safety can help to some extent with the disparity in user demographics between men and women.
Diversity Is Crucial
The boundaries of heterosexual and homosexual relationships, two or three genders (there are already more than ten genders), and formal and informal dating styles are all long gone in modern culture. Diverse users require applications where they will be appreciated, feel safe, and have a large selection of like-minded people to choose from.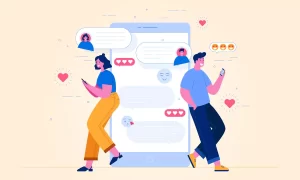 Consider developing dating services that are targeted at particular social groups based on their sexual orientation, nationality, religion, interests, and lifestyles. It is technically simpler to modify matching and filtering algorithms for a certain target category and rise to the top of a specialized dating market. Traditional apps can be scaled to various user groups even though their ability to generate profits is seen to be restricted.
Final Words
An evolutionary trend is necessary for the online dating industry to succeed. This is partly because of how simple it is for users to make contacts when they are on the go because of these tools. Even though they lead busy lives, users of dating apps are likely to find compatible partners and form fulfilling relationships with them. Modern features like location tracking, matching algorithms, secure talking options, etc. that dating apps offer are helping them gain popularity.
As a result of the epidemic, online dating has changed. Because of social isolation and limitations, many users chat with potential partners online for much longer than they do on in-person dates.
Although the online dating sector is now developing, many other applications use the same dynamics. While consumers are shifting their expectations toward value-driven online dating, the market expects innovations.