Medical
Market Your Practice in 2021 with PrognoCIS EMR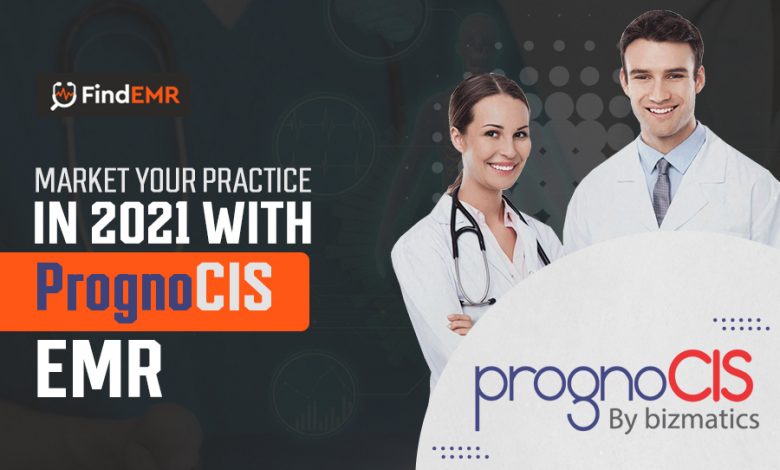 In today's world of heightened competition, it can be challenging to be on the top and build a loyal customer base. By investing in PrognoCIS EMR, doctors can successfully market their practices while minimizing the cost and time involved. 
This article analyzes the different ways through which you can promote your practice with PrognoCIS EMR Software.
Company Introduction – PrognoCIS EMR
PrognoCIS EMR Software is the brainchild of Bizmatics Inc., which has been in the medical software industry for 18 years now. It provides complete healthcare solutions for ambulatory medical clinics, be it an established facility or a sole practitioner. Some of its popular tools include electronic health records, practice management, revenue cycle management, e-prescribing, patient portal, and telemedicine. 
Why is it Important to Market your Practice? 
Loyal customer base 

Higher reach to potential clients 

A general impression of an established practice 

Edge over competitors 

Increased growth opportunities 
How PrognoCIS EMR Markets Your Practice? 
By offering quality solutions that strengthen the patient-practitioner relationship, positive word of mouth is created, and patients are less likely to switch to other medical facilities. Patient satisfaction and convenience is maximized through the following ways; 
Patient Management System 
The patient management system is more for practitioners than it is for patients. With this tool, doctors can provide quality and error-free services to their patients. They can send reminders before appointments, so patients never forget the day and time of their consultations. Lab results can be shared with patients electronically, which saves paper consumption. Patients can be asked to fill in forms online to save time. 
My Health Records App 
The most powerful tool offered by PrognoCIS EMR to generate positive word-of-mouth is the My Health Records app, which acts as a patient portal. Available on both Android and iOS devices, this app gives immediate access to one's medical records. Patients can use the app to schedule appointments and read discharge summaries of their past consultations. They can view prescription details and quickly request prescription refills. Additionally, they can view their billing statements to always remain abreast of timely payments. 
Patients can securely communicate with care providers whenever the need realizes. They can also access educational content to increase knowledge regarding their medical condition. The app has been developed in a user-friendly way with an attractive interface. 
ProCheckIn 
Just like doctors, patients are busy people as well. Their loyalties will be with a medical practice that does not unnecessarily cost their valuable time. Patients can use the ProCheckIn feature to complete all necessary paperwork and legal documents before appointments to save waiting time. All forms and documents shared through ProCheckIn are directly integrated with the electronic medical software offered by PrognoCIS. 
Patients can log in to the feature and mark 'arrived' at the time of their appointment, even if they are not physically present in the facility. All documents are electronically signed through the eSignature tool. Not only is this better for the environment since less paper is consumed, but it enables patients to sign documents from any location. 
Online Patient Payments 
Patients are facilitated as they can pay for medical expenses smoothly and securely. Any co-pays and advances can be paid by patients through the credit card facility. This tool is integrated within the electronic medical record, so users do not need to switch between multiple software. Patients can pay online from their home, office, or any location where they have an internet connection. 
All data entered during payment is directly saved into the practice management software offered by PrognoCIS EMR. This reduces duplicate information, time-consuming reconciliations, and grave errors. 
Telehealth 
To aid patients in times of social distancing and lockdowns due to Covid-19, PrognoCIS EMR enables its users to provide virtual consultations. These virtual visits imitate the likes of a physical appointment and can be provided to patients irrespective of wherever they may be located in the world. Patients' convenience is maximized as text, email, and video come together to provide a seamless experience for them. This feature is extremely beneficial for those patients that require constant medical supervision. 
The telehealth tool, like the EMR software, is HIPAA compliant. The latter ensures that no sensitive information is lost to hackers in security breaches. 
In a Nutshell 
It is vital to market your practice in 2021 because of cut-throat competition. PrognoCIS is medical software that enables practitioners to strengthen patient ties and build a loyal customer base. The latter is made possible through the Patient Management System, My Health Records App, ProCheckIn, Online Patient Payments, and Telehealth tools. These features create positive word of mouth and increase patient satisfaction. 
Invest in PrognoCIS EMR today to successfully market your practice.